Hiking to Col de Fornet (2219m)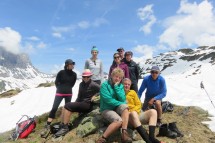 Sunday, June 10th, 2018 @ 08:00
Haute-Savoie, Geneva
I organize a hike from Morzine 50 km from Geneva. We will park at the Gold Mines Lake. The well-marked path goes up to the chalets of Beau Bornon and Aiguille. Then, a wilder course joins the collar of Fornet. Panorama of the resort of Avoriaz and Valais.
Elevation gain of 850 m; Distance of 10 km.
I DO NOT READ EMAILS TO GLOCALS
Inscription: by email at JeanJose.Gomez1956@gmail.com
This is an Oxygène 74 outing. rando-74.pagespro-orange.fr
I need to know:
• Your full name.
• Do you have a car and if yes, how many people can it contain, including the driver?
• Your mobile number
• An email address you can read on the weekend.
You will need: suitable shoes, warm clothes, sun cream and sunglasses, your passport and some Euros, drinks and picnic.
Price 5 Euros including insurance. Transport: passenger pays 10 Euros to the driver.
Leader: Jean Gomez: +33681756479.
Please, email me or call (I speak French and Spanish).
A gradient of 850 m and a distance of 10 km. Walking time: about 5 hours.
Photos :
https://onedrive.live.com/?id=A4B9057A7469BED9%2110699&cid=A4B9057A7469BED9
Meeting point at 08:00 at the French side of the Moellesulaz customs. Place Porte-de-France.