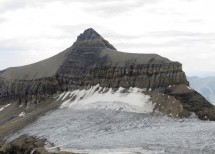 Sunday, September 16th, 2018
Valais, Geneva
We walk to the Glacier de Tsanfleuron, which we ascend to the Oldesattel. We take the rocky trail up the pyramidal Oldenhorn. At the summit we have 360° views including the Eiger and Mont Blanc. The summit is the triple point of the cantons of Vaud, Bern and Valais. We descend and continue up the glacier to the ski station, walk the Peak Walk suspension bridge to Sex Rouge, take the cable car down to Col du Pilon.

I DO NOT READ GLOCALS MAIL
Inscription: by email at bill_larson@bluewin.ch

I need to know
1) Your first and last name
2) Are you an Oxygène 74 member?
3) An email address you can read on the weekend.
4) Your mobile phone number.
5) Evidence of recent mountain experience.

To Bring: crampons, good boots, hat, picnic lunch, drink, warm coat, rain gear, shorts, sun screen, sun glasses, collapsible ski pole(s). I can rent crampons (10 CHF); also most sports stores in Geneva can rent them.

Leader: Bill Larson bill_larson@bluewin.ch

Maximum altitude: 3123 m

Transport: Train, bus, cable car.

Confirmation or cancelation of the hike: If the weather is bad, we will cancel. About midday the day before the hike, Bill will send an email to those who signed up to confirm or cancel.

• By registering, you agree that you are fit for this level of hike and/or that you have previously participated in a difficult hike with SCIG.
• By registering, you confirm that you carry insurance against accidents and mountain rescue, in particular helicopter rescue operations. Check with your employer to see if you are properly insured. The Hike Leader and SCIG disclaim any and all liability for accidents related to this hike.