Snowshoes to the Tête de Bostan (2406m)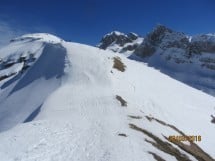 Sunday, March 31st, 2019 @ 07:30
Haute-Savoie, Geneva
Between Saturday and Sunday, 2H becomes 3H.
Motorized or people can rent a car are welcome.
I organize a winter hike to the Tête de Bostan from Samoens (60 km from Geneva) on Sunday March 31th.
Beautiful sport output. 1300 m elevation.
From the parking lot, the trail winds gently up to the Col de la Golèse. From the pass, we climb the Plateau of Lagots (1800m).
Through the Lagots, we join the Avouille then the crest and finally the head of Bostan. Return by the same road to the Lagots, then descent to the Tornay refuge (1,763 m) and the Allamands.
PHOTOS:
https://1drv.ms/f/s
!Atoxc5_vAkTgsWLbklxXPr1wvUxD
A gradient of 1300 m and a distance of 14 km. Walking time: about 6 hours.
REGISTER ONLY BY EMAIL, please at: JeanJose.Gomez1956@gmail.com
This is an Oxygène 74 outing. rando-74.pagespro-orange.fr
I need to know: Your full name. Do you have a car and if yes, how many people can it contain, including the driver? Your mobile number. An email address you can read on the Saturday.
If you do not have your own snowshoes, you can rent them in advance (for a list of rental places see
http://www.sindy.ch/snowshoes.doc
- in addition, there is Cactus Sports in Carouge).
You will need: suitable shoes, poles and gaiters, warm clothes, sun cream and sunglasses, your passport and some Euros, drinks and picnic.
Price 5 Euros including insurance. Transport: passenger pays 12 Euros to the driver.
Leader: Jean Gomez: JeanJose.Gomez1956@gmail.com - +33681756479. Please, email me or call (I speak French and Spanish).
Meeting point at 07:45 at the French side of the Moellesulaz customs, in front of the Librairie de France