snowshoe hike to Montagne d'Anterne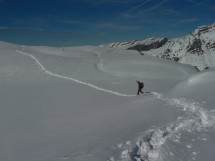 Sunday, April 21st, 2019 @ 07:30
Haute-Savoie, Geneva
For this hike we are looking someone with a car
On Sunday April 21, I organize a snowshoe hike to Montagne d'Anterne 2057m.
This mountain is situated between the massif of Fiz and the Grenaison. It's surface is hilly. It offers a grandiose view on the Fiz, Willy, Buet etc. ….
we start from Feulatière (Salvagny, Sixt-Fer-A-Cheval) and via the Chalets de Fonts we arrive at the summit. If the road to Lignon is open, we start from Fardelay.
Down by same way.
Elevation gain about 1150m. Length about 17 km. This hike has not technical difficulty. But it is very sporty. For sporty hikers.
Photos:
https://photos.app.goo.gl/e2VejWVrXUAqAEbj7
https://photos.app.goo.gl/qpsLqTqqHjricG9VA
Meeting point/time 7 :30 7:30 Veyrier Douane. Inscription is obligatory.
Equipment: Good mountain shoes, snowshoe, sticks, hat, gloves, warm and waterproof clothes, picnic, drink. All participants must be well-prepared and have all equipment with them.
Formalities: The newcomers are asked to fill out the registration form
http://rando-74.assoc.pagespro-orange.fr/AdhesionEssayant-Oxygene74-2019.doc
and deliver it to the organizer on Sunday morning.
The hike is organised by the small hiking association Oxygene 74
http://rando-74.assoc.pagespro-orange.fr/index.htm
There is a participation fee of 5 Euro for a daily license of the French hiking federation FFRP.
Passengers in the vehicle pay directly to the driver € 0.10 per km.
If you are interested, you can contact me on my direct e-mails amazraf@gmail.com
You can also call me (only emergency) at 079 644 85 52
Do let me know whether you will come by car and if you are an Oxygène member. Write me please your mobile number and your e-mail.