walk along the Rhône from La Plaine - meeting 13h10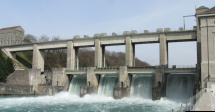 Thursday, October 8th, 2020 @ 13:00
Cornavin and La Plaine station, Geneva
For this walk, we will meet at Cornavin railway station at 13h10. We meet at platform five which is between platforms 4 and 6. We will take the train to La Plaine where we arrive at 13h18 (you can also join us there at 13h37).
We will walk along the left bank of the Rhône river over a small trail - good chances to see various birds. We will descend towards the Barrage de Pougny-Chancy and then cross the river at the Chancy bridge which is also the Swiss-French border. We then go back along the right bank, on a larger trail. The walk is about 14 km long, the gradient is about 250 metres.
Take food and drinks along for a picnic, plus something to sit upon.
This activity is organised with the hiking association Oxygène74 - see
https://rando-74.pagespro-orange.fr/.
There is a participation fee of 5 Euro.