Volunteer for the Escalade, 4th & 5th December 2021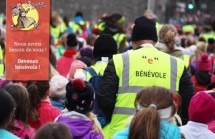 Sunday, December 5th, 2021 @ 10:00
Geneva, Geneva
Dear All.
Together with several other runners and friends, we're volunteering for this years Escalade races.
Would be very cool if you can help out.
Please send an e-mail to the organizers.
Thank you.
C'est le moment de sauter le pas ; devenez bénévole à la Course de l'Escalade !
Au programme : bénévolat, mais surtout ambiance chaleureuse, esprit d'entre-aide et rigolade ????
Plus d'informations sur les activités, les horaires et les inscriptions sur :
https://benevoles.escalade.ch/
Nous avons hâte de vous retrouver le week-end des 4 et 5 décembre !
#coursedelescalade