walk along the lakeside: Hermance-Plage de Beauregard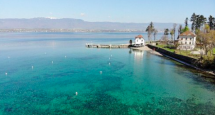 Thursday, November 18th, 2021 @ 12:00
Rive, Geneva
For this walk, we will meet at the stop of bus E on Rive, near to Starbucks, at 12h00. We will take bus E at 12h16 to the final stop, Hermance (arrival 12h45). We will cross the border and take the first road to the left to the start of the small trail along the lake.
The trail allows to walk along the lakeside, with right to passage over various private properties. No dogs allowed. Various occasions to watch water birds.
We will follow the trail until the small beach Beauregard where we will have a picnic, and take the same way back. Total distance: 8 to 9 km.
The hike is organised by the small hiking association Oxygène74
http://rando-74.pagespro-orange.fr
. There is a participation fee of 5 Euro
for a daily license of the French hiking federation FFRP, including insurance.
Please register before Wednesday at 19h00.