New Years Day stroll along the Seymaz - meet-up 11h50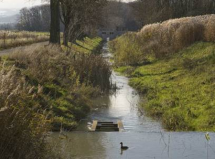 Saturday, January 1st, 2022 @ 12:00
, Geneva
Let us start 2022 with a little walk! We will meet at Rive (bus stop near Starbucks) at 11h50. We will take bus G, departure 12h00. We get off at Pallanterie (arrival 12h15 - you can also join us there). For connections, see
http://www.tpg.ch
.
We will walk downstream the Seymaz river, passing along Rouelbeau (archeological site with ruins of a medieval castle) and the Sionnet marches. We will follow the Seymaz which later on meanders through Chene-Bourg and Thonex. We will finish the walk at tram stop Place Favre where tram 12 can take us back into town.
We will have a little picnic on the way - take food and drinks along, plus something to sit upon. Dog owners can participate with their dogs.
Distance: about 9 km., flat. We will take it easy and walk for about 2 1/2 hours. Expect to be back in town by 16h00.