New walk near Ségny - meet up at 9h15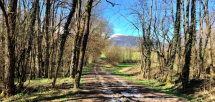 Friday, May 20th, 2022 @ 09:30
Rive, Geneva
For this walk, we will meet at the Grottes side ("back side") of Cornavin railway station, at the stop for buses 5, 8, 20 and F. We will take bus F at 09h30 and get off at stop Ségny Centre (arrival 10h06). We will walk through the village and then through the forest, along the Grand Journans river - most of the walk will be in the shade. We will go through the village of Chevry and have picnic at a spot with good view over the region. We will walk over a small path where the railway from Bellegarde to Divonne les Bains used to be. We will make our way back to Ségny.

For getting from Cornavin to Ségny, you need a multizone ticket covering zones 10 and 250 (costs 4.60 CHF). If you have a monthly or annual bus pass for Geneva, you can buy an extension ticket for 1.60 CHF. You can buy tickets beforehand or in the bus (using credit card, TPG card or mobile phone).

The walk is about 8 km. We will take it easy and walk for about 2 1/2 hours. We will make a stop for a picnic, take food and drinks along plus something to sit upon. Except to be back in town around 15h00.