Walk and swim: Hermance-Plage de Beauregard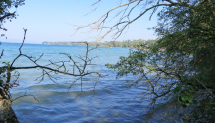 Saturday, June 18th, 2022 @ 09:30
, Geneva
For this walk, we will meet at the stop of bus E at Rive, near to Starbucks, at 09h30. We will take bus E at 09h35 to the final stop, Hermance Village (arrival 10h05). We will cross the border into France (take your password or ID card) and take the first road to the left to the start of the small trail along the lake.

The trail allows to us walk along the lakeside, with right to passage over various private properties (servitude de marchepied). No dogs allowed. Various occasions to watch water birds. There are some restrictions on some properties (stay on the path, do not take pictures).

We will follow the trail until the small, shaded beach of Beauregard where we will have a swim and a picnic. We would stay there for 1 1/2 or 2 hours and then go the same way back (of course everyone is free to leave earlier or stay longer). Total distance: about 9 km.

Do take food and drinks for the picnic, plus something to sit upon. Also take your swimming stuff if you like to take a dip in the lake.

We will take it easy and walk for about 2 to 2 1/2 hours. Expect to be back in town around 15h00.

Do register only if you are sure to attend.