Hike to Tête de Chalin 2595 m en Switzerland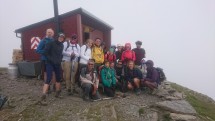 Sunday, July 17th, 2022 @ 07:30
Switzerland, Valais, Geneva
On Sunday July 17, if the weather is ok, I organize a circular hike to Tête de Chalin 2595 m In Switzerland. This is a small hut situated at
below the Cime de l'Est of Dents du Midi, on 2595 m hight. It overlooks Val d'Illiez and offers the magnificent landscapes…
We start from Chindonne ( a hamlet on 1604m hight, Monthey) go up to west and south and arrive at Dent de Valerette. Continue on the edge of the ridge to arrive at Dent de Valère.
From hier a bit down and walk on the ridge (Dardeu about 1300 m length) and arrive a small cabin 2595 m.
Down to Dent de Valère by same way. From there take the North ridge and trough the mountain pastures arrive at parking.
Photos from our latest hike to this summit:
https://photos.app.goo.gl/GJtughzBdBcvngWAA
Elevation gain 1150 m. Length 14 km. For experimented and sporty hikers.
Appointment 7:30, on the Place du Rive (Cours de Rive) in Geneva center.Inscription is obligatory.
Equipment: good mountain shoe, hat, gloves, warm-cold and waterproof clothes, sticks, picnic, drink. All participants must be well-prepared and have all equipment with them.
Formalities: The newcomers are asked to fill out the registration form:
https://tinyurl.com/pxdmfxh4
and send it to the organizer and receive a daily insurance card.
The hike is organized by the small hiking association Oxygen 74
http://www.randonneeoxygene74.com/
There is a participation fee of 5 Euro for a daily license of the French hiking federation FFRP.
Passengers in the vehicle pay directly to the driver € 0.10 per km.
If you are interested, you can contact me on my direct e-mails amazraf@gmail.com
You can also call me (only emergency) at 079 644 85 52
Do let me know whether you will come by car and if you are an Oxygen member. Write me please your mobile number and your e-mail.