Book selection: Japanese aestheticism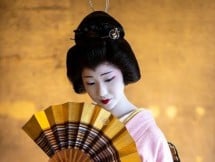 Tuesday, May 30th, 2023 @ 19:00
Maison Internationale des Associations, Rue des Savoises 15, 1205 Genève, Geneva
An island made of islands, Japan developed its own unique and peculiar form of aestheticism which translates in a rich literary tradition. Time-honored concepts such as mono no aware (the melancholy of things) developed from Japanese Buddhist philosophy still influence modern writers, along with re-elaborations of Western culture and a quest for identity in a country that's constantly changing. After the modernisation introduced during the period of Meiji Restoration that started in 1868, Japanese aestheticism underwent a major transformation by receiving the European aesthetic sense of beauty as interpreted by Japanese authors. This transformation vivified the Japanese sense of beauty in contrast with the European concept, building on the Japanese authors' long-lasting appreciation for the European aesthetic sense. Guided by Tomiji, a Japanese, and Francesca, an Italian in love with Japanese literature, we will consider Japanese aestheticism in a range of novels going from the early 1900s to the 2010s.

Location: Maison des Associations, salle Albert Jacquard
Presenter: Tomiji and Francesca
Starting time: 7:15 PM

Format:
Part 1: presenter(s) provide a short overview of the pre-selected books, highlighting some of the reviews and critics and other relevant background. Members who have read any of the books can contribute.
Part 2: participants are invited to introduce any book that they would like to recommend and provide a short overview thereof (on a voluntarily basis).
Part 3: participants vote to select the book to be discussed in one of the upcoming book discussion meetings.

We look forward to seeing you all!