Cave of Orjobet (hiking Mont Salève)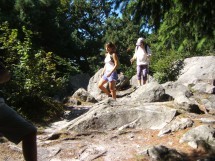 Wednesday, September 21st, 2016 @ 13:30
Croix-de-Rozon, customs, Geneva
A walk for walkers in good health.
From the customs of Collonges-sous-Salève, we drive our cars to the parking of Le Coin, at 2.5 km from customs, carpooling (passenger cost: 0,50 euros).
For departure of the walk at 13h45.
The path of Orjobet. Photos of August 10, 2016.
From the car park "Le Coin" (altitude 666 m); continue through the forest and after a few bends on a fairly sustained slope we reach the entrance of the Cave of Orjobet (the name of the guide of De Saussure). Leaving the cave, we continue the path towards "La Croisette". The return from la Croisette is a wide track (le Facteur), unless we choose the path of "Les Allumés".
A circular route of about 3,5 hours and 530 m elevation.
TRANSPORT (Drize road works are completed): The meeting takes place at the customs Croix-de-Rozon (Collonges side France). First you take tram 12 or 18 to Carouge-Rondeau. Then, you take bus TPG line44 to Croix-de-Rozon-Douane. You can find the hours in
http://www.tpg.ch
Two hike leaders, Pierre and Georges accompany you. 13:30 departure from the customs Collonges-sous-Salève.
Return time 18:00. Participation of 5 euros for our association (with insurance).
Waterproof clothing and good shoes are necessary.
The tour will be maintained by any weather. Bring a little snack and your good mood!
Gentle hiking program of Wednesdays, Summer and Autumn 2016:
http://rando-74.pagespro-orange.fr/Randos-douces_Oxygene74_3T16_en.doc
phone : 00336.82.03.55.42 or 00334.50.95.96.89
Email : rando-74@wanadoo.fr
Une balade pour personnes entrainées.
Depuis la douane de Collonges, nous conduirons nos voitures au parking du Coin, à 2,5 km de la douane, en covoiturage (coût pour passagers : 0,50 euros), pour un départ à 13h45.
Le sentier d'Orjobet. Photos du 10/08/2016.
Du parking, partir en forêt et après quelques lacets sur une pente assez soutenue nous arrivons au départ d'un escalier taillé dans la roche qui rejoint l'entrée de la Grotte d'Orjobet (du nom du guide à De Saussure).
En sortant de la grotte, nous continuons le sentier en direction de "la Croisette". Le retour est une large piste (le "Facteur"), à moins qu'on ne préfère le sentier "des Allumés" !
Un parcours en boucle d'environ 3h30 sur 530 m de dénivelé.
Deux animateurs bénévoles : Pierre et Georges vous accompagneront. Départ 13h30 de la douane de Collonges-sous-Salève. Retour prévu à 18h00. Participation de 5 euros pour notre association (avec une assurance).
Vêtements imperméables et bonnes chaussures.
L'excursion sera maintenue par n'importe quel temps. Apportez un petit casse-croûte et votre bonne humeur !
Photos des sorties sur
http://rando-74.pagespro-orange.fr/PHOTOS.htm
Email : rando-74@wanadoo.fr
page Web :
http://rando-74.pagespro-orange.fr/Rando-Douce_Oxygene74.htm
Programme des randonnées douces des mercredis, automne-été 2016 :
http://rando-74.pagespro-orange.fr/Randos-douces_Oxygene74_3T16_en.doc
téléphone : 06.82.03.55.42 ou 04.50.95.96.89
Email : rando-74@wanadoo.fr