Hiking from Dingy-en-Vuache, Trail Nature Vuache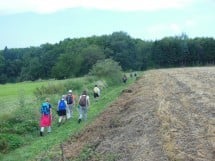 Wednesday, November 9th, 2016 @ 09:00
Croix-de-Rozon, customs, Geneva
From the customs of Collonges sous Salève, we drive our cars to Chênex at 20 km by carpooling (cost for passengers : 4 euros). We park our cars at the parking lot of the church at 09:30 and start the walk.
We depart south by a small road and in the forest to a promontory: Les Grandes Reisses. View Mount Musiège and views of Mount Vuache.
Nearby, a botanical trail (Trail Nature Vuache) and the loop of Morennes (with reference to the glacial moraines deposited by the Rhone glacier).
At noon we will take our snack or a meal in cafeteria. Back at around 14h.
A circular route of about 3.5 hours and 250 m elevation.
TRANSPORT (Drize road works are completed): The meeting takes place at the customs Croix-de-Rozon (Collonges side France). First you take tram 12 or 18 to Carouge-Rondeau. Then, you take bus TPG line44 to Croix-de-Rozon-Douane. You can find the hours in
http://www.tpg.ch
Two hike leaders, Pierre and Georges accompany you. 09:00 departure from the customs Collonges-sous-Salève.
Return time 14:00. Participation of 5 euros for our association (with insurance).
Waterproof clothing and good shoes are necessary.
The tour will be maintained by any weather. Bring a little snack and your good mood!
Gentle hiking program of Wednesdays, Summer and Autumn 2016:
http://rando-74.pagespro-orange.fr/Randos-douces_Oxygene74_3T16_en.doc
phone : 00336.82.03.55.42 or 00334.50.95.96.89
Email : rando-74@wanadoo.fr
Depuis la douane de Collonges, nous conduirons nos voitures à Chênex à 20 km (Parking de l'église, 9h30) en covoiturage (coût pour passagers : 4 euros).
Nous partirons plein sud par une petite route, puis en forêt jusqu'à un promontoire : Les Grandes Reisses. Vue sur le mont de Musiège et panoramas sur le mont Vuache.
A proximité, un sentier botanique (sentier Nature du Vuache), et la boucle des Morennes (en références aux moraines glaciaires déposées par le glacier du Rhône).
A midi, nous prendrons notre casse-croûte, ou un repas, en cafétéria. Retour aux environs de 14h.
Un parcours en boucle d'environ 3h30 sur 250 m de dénivelé.
Deux animateurs bénévoles : Pierre et Georges vous accompagneront. Départ 9h00 de la douane de Collonges-sous-Salève. Retour prévu à 14h00. Participation de 5 euros pour notre association (avec une assurance).
Vêtements imperméables et bonnes chaussures.
L'excursion sera maintenue par n'importe quel temps. Apportez un petit casse-croûte et votre bonne humeur !
Photos des sorties sur
http://rando-74.pagespro-orange.fr/PHOTOS.htm
Email : rando-74@wanadoo.fr
page Web :
http://rando-74.pagespro-orange.fr/Rando-Douce_Oxygene74.htm
Programme des randonnées douces des mercredis, automne-été 2016 :
http://rando-74.pagespro-orange.fr/Randos-douces_Oxygene74_3T16_en.doc
téléphone : 06.82.03.55.42 ou 04.50.95.96.89
Email : rando-74@wanadoo.fr