Hiking Serres de Troinex and a "Raclette"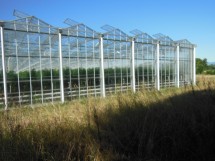 Wednesday, December 7th, 2016 @ 09:00
Croix-de-Rozon, customs, Geneva
Discovery walk for a family walk to suit all.
We cross the hamlet Evordes (equestrian center), then the greenhouses area (horticulture and vegetables) to reach the village of Veyrier.
After the border, we will join the golf, then we shall cross the village of Bossey.
Back in Collonges-sous-Salève, at Pierre's, we shall eat a local specialty (the raclette).
Aperitif, dried meat, cheese, steamed potatoes, fruit salad, drinks. Cost 10 €.
A circular route of about 3,5 hours. Denivelation gain 250 m.
TRANSPORT: The meeting takes place at the customs Croix-de-Rozon (Collonges side France). First you take tram 12 or 18 to Carouge-Rondeau. Then, you take bus TPG line44 to Croix-de-Rozon-Douane. You can find the hours in
http://www.tpg.ch
Two hike leaders, Pierre and Georges accompany you. 09:00 departure from the customs Collonges-sous-Salève.
Return time 14:30. Participation of 5 euros for our association (with insurance). Raclette: cost 10 €.
Waterproof clothing and good shoes are necessary.
The tour will be maintained by any weather.
Gentle hiking program of Wednesdays:
http://rando-74.pagespro-orange.fr/Randos-douces_Oxygene74_4T16_en.doc
phone : 00336.82.03.55.42 or 00334.50.95.96.89
Email : rando-74@wanadoo.fr
Balade découverte pour une marche familiale pouvant convenir à tous.
Nous traversons le hameau d'Evordes (centre équestre), puis la zone des serres (horticulture et légumes) pour rejoindre le village de Veyrier.
Après le poste frontière, nous rejoindrons le golf, puis nous traverserons le village de Bossey. De retour à Collonges, chez Pierre, nous dégusterons une spécialité locale (la raclette). Apéritif, viande séchée, fromage, pommes vapeur, salade de fruits, boissons. Coût 10 €.
Un parcours en boucle d'environ 3h30. Dénivelé de 250 m.
Deux animateurs bénévoles : Pierre et Georges vous accompagneront. Départ 09h00 de la douane de Collonges-sous-Salève. Retour prévu à 14h30. Participation de 5 euros pour notre association (avec une assurance).
Vêtements imperméables et bonnes chaussures.
L'excursion sera maintenue par n'importe quel temps.
Photos des sorties sur
http://rando-74.pagespro-orange.fr/PHOTOS.htm
page Web :
http://rando-74.pagespro-orange.fr/Rando-Douce_Oxygene74.htm
téléphone : 06.82.03.55.42 ou 04.50.95.96.89
Email : rando-74@wanadoo.fr