Walking along the Drize river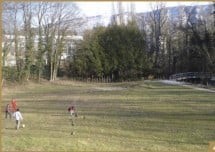 Wednesday, December 14th, 2016 @ 13:30
Croix-de-Rozon, customs, Geneva
Discovery walk for a family walk to suit all.
It is at first a stream that winds serenely on the foothills of the Salève.
It acquires the name of river at the passage of the Franco-Swiss border and becomes Drize.
We shall follow its banks and cross its numerous bridges.
After the village of Troinex we shall walk along its recently built banks to Grange Collomb and the route de St Julien, in a preserved nature.
To return we shall take the bus.
Walking time 2h30. Distance : 12 km.
TRANSPORT: The meeting takes place at the customs Croix-de-Rozon (Collonges side France). First you take tram 12 or 18 to Carouge-Rondeau. Then, you take bus TPG line44 to Croix-de-Rozon-Douane. You can find the hours in
http://www.tpg.ch
Two hike leaders, Pierre and Georges accompany you. 13:30 departure from the customs Collonges-sous-Salève.
Return time 18:00. Participation of 5 euros for our association (with insurance).
Waterproof clothing and good shoes are necessary.
The tour will be maintained by any weather.
Gentle hiking program of Wednesdays:
http://rando-74.pagespro-orange.fr/Randos-douces_Oxygene74_4T16_en.doc
phone : 00336.82.03.55.42 or 00334.50.95.96.89
Email : rando-74@wanadoo.fr
Promenade le long de la Drize. C'est d'abord un ruisseau qui serpente tranquillement sur le piémont du Salève. Il acquiert le nom de rivière au passage de la frontière franco-suisse et devient la Drize.
Nous longerons ses rives et enjamberons ses nombreux ponts.
Après le village de Troinex, nous cheminerons sur ses berges récemment aménagées jusqu'à Grange Collomb et la route de St Julien, au sein d'une nature préservée.
Temps de marche 2h30. Distance parcourue : 12 km.
Deux animateurs bénévoles : Pierre et Georges vous accompagneront. Départ 13h30 de la douane de Collonges-sous-Salève. Retour prévu à 18h00. Participation de 5 euros pour notre association (avec une assurance).
Vêtements imperméables et bonnes chaussures.
L'excursion sera maintenue par n'importe quel temps.
Photos des sorties sur
http://rando-74.pagespro-orange.fr/PHOTOS.htm
page Web :
http://rando-74.pagespro-orange.fr/Rando-Douce_Oxygene74.htm
téléphone : 06.82.03.55.42 ou 04.50.95.96.89
Email : rando-74@wanadoo.fr