Hiking on mount Vuache (934m)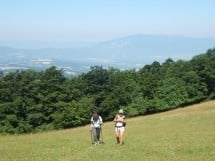 Wednesday, April 12th, 2017 @ 09:00
Croix-de-Rozon, customs, Geneva
This Wednesday, we shall climb the Mont Vuache, taking advantage of the early spring.
This time hiking on Mount Vuache is almost entirely in the forest, with some views of the Rhone Valley and further ... A 9 km loop to the top, while discovering the local heritage (holy oratory Victory), and observing traffic areas for migratory birds. Four hours of effective walking to 550 m elevation.
From customs, we drive our cars to the town of Chevrier at 20 km from the customs by carpooling (cost for passengers : 4 euros).
Two hike leaders, Pierre and Georges accompany you. 09:00 departure from the customs Collonges-sous-Salève.
Return time 14:00. Participation of 5 euros for our association (with insurance).
Waterproof clothing and good shoes are necessary.
The tour will be maintained by any weather. Bring a snack and your good mood!
The meeting takes place at the customs Croix-de-Rozon (Collonges side France). First you take tram 12 (Direction: Palettes) or 18 (Direction: Carouge-Rondeau) to Carouge-Rondeau. Then you take bus TPG line 44 to Croix-de-Rozon-Douane. You can find the hours in
http://www.tpg.ch
.
Photos of events
https://1drv.ms/f/s
!Atoxc5_vAkTghk8iecs4wyNC9s5Y
phone : 00336.82.03.55.42 or 00334.50.95.96.89
email: rando-74@wanadoo.fr
Depuis la douane de Croix-de-Rozon, nous conduirons nos voitures jusqu'au village de Chevrier à 20 km de la douane, en covoiturage (coût pour passagers : 4 euros).
Cette fois, la randonnée sur le mont Vuache sera presque entièrement en forêt, avec quelques vues sur la plaine du Rhône, et plus loin... Une boucle de 9 km jusqu'au sommet, tout en découvrant le patrimoine local (oratoire sainte Victoire), et en observant les lieux de passage des oiseaux migrateurs.
Quatre heures effectives de marche pour 550 m de dénivelé.
Deux animateurs bénévoles : Pierre et Georges vous accompagneront. Départ 09h00 de la douane de Collonges-sous-Salève. Retour prévu à 14h00. Participation de 5 euros pour notre association (avec une assurance).
Vêtements imperméables et bonnes chaussures.
L'excursion sera maintenue par n'importe quel temps. Apportez un casse-croûte et votre bonne humeur !
Le rendez-vous a lieu au niveau de la douane de Croix-de-Rozon (Collonges côté France). Vous pouvez y accéder par les bus des TPG, seulement la ligne 44 qui part depuis Carouge.
Carouge est accessible par le tram n°18 ou par le tram n°12 principalement.
Photos des sorties sur :
https://1drv.ms/f/s
!Atoxc5_vAkTghk8iecs4wyNC9s5Y
téléphone : 06.82.03.55.42 ou 04.50.95.96.89
Email : rando-74@wanadoo.fr