Hike to the Pointe de Perret (1941m)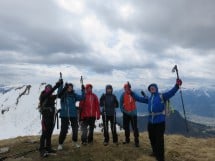 Sunday, April 16th, 2017 @ 08:00
Haute-Savoie, Geneva
Motorized or people can rent a car are welcome.
This Sunday, April 16, I organize a hike in Mieussy. Distances from Geneva 30 km.
After the cave of the Jourdy, the trail rises in the forest, alongside steep slopes. Then the entire hike is uncovered.
We go on a ridge path to the top. Panorama over the valleys of Giffre and Arve. Back by a medieval way and the chapel Saint Gras.
PHOTOS:
https://1drv.ms/f/s
!Atoxc5_vAkTgt2oOI-rkmacwk5sv
A gradient of 1075 m and a distance of 12 km. Walking time: about 5 hours.
REGISTER ONLY BY EMAIL, please at: JeanGomez80@sfr.fr
This is an Oxygène 74 outing. rando-74.pagespro-orange.fr
I need to know: Your full name. Do you have a car and if yes, how many people can it contain, including the driver? Your mobile number. An email address you can read on the weekend.
You will need: suitable shoes, poles and gaiters, warm clothes, sun cream and sunglasses, your passport and some Euros, drinks and picnic.
Price 5 Euros including insurance. Transport: passenger pays 6 Euros to the driver.
Leader: Jean Gomez: JeanGomez80@sfr.fr - +33450924449 and +33681756479. Please, email me or call (I speak French and Spanish).
Meeting point at 08:00 at the French side of the Moellesulaz customs, in front of the Librairie de France