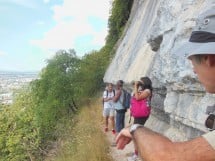 Wednesday, July 26th, 2017 @ 13:30
Croix-de-Rozon, customs, Geneva
A walk for walkers in good health. From the customs of Collonges sous Salève, we drive our cars to Etrembières at 5 km by carpooling (cost for passengers : 1,50 euro). We park our cars at the parking lot of the Chapel (facing the castle of Etrembières) at 13:45 and start the walk at 13h50.
The hiking on the Petit Salève is almost entirely in the forest. Local attractions: the track of the old railway, Mount Gosse. The stone Tasson. The Tarabara hole and sinkholes. Panoramic view of Geneva and the Jura chain. Either we start a gentle slope by the old railway, with a passage on Mount Gosse, or we climb the trail Vaults. The two tracks join the hamlet of Monnetier. Three hours of effective walking and 250 m elevation.
Photos:
https://1drv.ms/f/s
!Atoxc5_vAkTglhhbx6vLhb1FNgUT
https://1drv.ms/f/s
!Atoxc5_vAkTg4TB_9LTtpCLqHn5y
TRANSPORT: The meeting takes place at the customs Croix-de-Rozon (Collonges side France). First you take tram 12 or 18 to Carouge-Rondeau. Then, you take bus TPG line44 to Croix-de-Rozon-Douane. You can find the hours in
http://www.tpg.ch
Two hike leaders, Pierre and Georges accompany you. 13:30 departure from the customs Collonges-sous-Salève.
Return time 18:00. Participation of 5 euros for our association (with insurance).
Waterproof clothing and good shoes are necessary.
The tour will be maintained by any weather. Bring a little snack and your good mood!
phone : 00336.82.03.55.42 or 00334.50.95.96.89
Email : rando-74@wanadoo.fr
Une balade pour moyens marcheurs. Depuis la douane de Collonges, nous conduirons nos voitures à Etrembières (Parking de la Chapelle, 13h45) en covoiturage (coût pour passagers : 1,50 euros).
La randonnée sur le Petit Salève sera presque entièrement en forêt, Le château, la piste de l'ancien chemin de fer, le Mont Gosse, la pierre à Tasson, le trou de Tarabara et les dolines. Vue panoramique sur Genève et la chaine du Jura.
Soit nous démarrons en pente douce par l'ancien chemin de fer à crémaillère, avec un passage sur le Mont Gosse, soit nous grimpons par le sentier des Voûtes. Les deux pistes rejoignent le hameau de Monnetier.
Un parcours en boucle d'environ 3h sur 250 m de dénivelé.
PHOTOS :
https://1drv.ms/f/s
!Atoxc5_vAkTglhhbx6vLhb1FNgUT
https://1drv.ms/f/s
!Atoxc5_vAkTg4TB_9LTtpCLqHn5y
Deux animateurs bénévoles : Pierre et Georges vous accompagneront. Départ 13h30 de la douane de Collonges-sous-Salève. Retour prévu à 18h00. Participation de 5 euros pour notre association (avec une assurance).
Vêtements imperméables et bonnes chaussures.
L'excursion sera maintenue par n'importe quel temps. Apportez un petit casse-croûte et votre bonne humeur !
page Web :
http://rando-74.pagespro-orange.fr/Rando-Douce_Oxygene74.htm
téléphone : 06.82.03.55.42 ou 04.50.95.96.89
Email : rando-74@wanadoo.fr