Snowshoeing, Arête de Coicon 2004m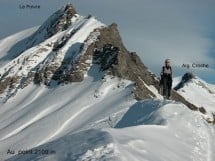 Sunday, March 4th, 2018 @ 07:30
Haute-Savoie, Geneva
I organize a winter hike to the Arête de Coicon (Mont de Grange) from Abondance (63 km from Geneva) this Sunday, March 4th.
A starting gently sloping to the chalets of Lens.
Then we will join the plateau of Covagne and Lenlevay on the GR5.
Climb a fairly steep ridge, but the view is splendid. A circular route. A superb very progressive snowshoeing.
I DO NOT READ EMAILS TO GLOCALS
Inscription: by email at JeanJose.Gomez1956@gmail.com
This is an Oxygène 74 outing. rando-74.pagespro-orange.fr
I need to know:
• Your full name.
• Do you have a car and if yes, how many people can it contain, including the driver?
• Your mobile number
• An email address you can read on the weekend.
• Have you used snowshoes?
You will need: suitable shoes, poles and gaiters, warm clothes, sun cream and sunglasses, your passport and some Euros, drinks and picnic.
Price 5 Euros including insurance. Transport: passenger pays 13 Euros to the driver.
If you do not have your own snowshoes, you can rent them in advance (for a list of rental places see
http://www.sindy.ch/snowshoes.doc
- in addition, there is Cactus Sports in Carouge) and our association can rent snowshoes (8 euros).
Leader: Jean Gomez: +33681756479.
Please, email me or call (I speak French and Spanish).
A gradient of 800 m and a distance of 12 km. Walking time: about 5 hours.
Photos of the recognition of 10/12/16 :
https://1drv.ms/f/s
!ApJxH7eC9u8CgaE9ZZLU8JoJivDQVg
Meeting point at 07:45 at the French side of the Moellesulaz customs.
The glocals website does not allow appointments every 15 minutes.