Snowshoe hike to Pointe de Sosay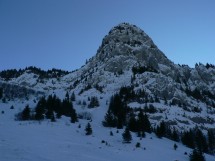 Sunday, March 25th, 2018 @ 07:30
Haute Savoie, Geneva
On Sunday, March 25, if the weather is ok, I'm organizing a snowshoe hike to Pointe de Sosay1894m. Located at near bay the Jallouvre, This summit overlooks Plateau De Cenise, Rochers de Leschaux etc. …
We start from La Puse village (Petit Bornand) and trough de Plateau de cenise arrive at the summit.
Elevation gain: about 1000 m. Distance about 15 km. For experimented and sporty hikers.
Photos:
https://tinyurl.com/hv2x2ob
Equipment : Mountain boot, snowshoe, gaiter, stick, warm,cold and rain clothes, glove, hat, drink, picnic. …
Formalities: The newcomers are asked to fill out the registration form:
http://rando-74.pagespro-orange.fr/AdhesionEssayant-Oxygene74-2018.doc
and deliver it to the organizer on Sunday morning.
We meet at Gaillard, behind the customs of Moellesullaz, in front of the Librairie de France at 7 : 30. Inscription is obligatory.
The hike is organised by the small hiking association Oxygene 74
http://rando-74.pagespro-orange.fr
There is a participation fee of 5 Euro for a daily license of the French hiking federation FFRP.
Passengers in the vehicle pay directly to the driver € 0.10 per km.
If you are interested, you can contact me via my direct e-mails amazraf@bluewin.ch. You can also call me (only emergencly) at 079 644 85 52
Do let me know whether you will come by car and if you are an Oxygène member. Write me please your mobile number and your e-mail.