Snowshoe hike to the Lac and Mont Jovet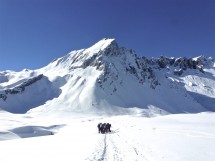 Sunday, April 1st, 2018 @ 07:30
Haute-Savoie, Geneva
On Sunday, april,1 I'm organizing a snowshoe hike to Mont Jovet (south Summit 2362 m). This summit of Mont Blanc Chain offers a great view over the: Mont Tendu Tête d'Enclave, Beaufortin etc. …. It overlooks the Lacs Jovet.
We start from Notre Damme De La Gorge (1200 m). Via Bridge and Roman Road we arrive at the Chalets De La Balme. At Pylon EDF we take our left and From the Lakes we climb the South Ridge to the summit. For those who do not want climbing to the top,to stay at the lake (2174m)
Elevation gain: 1150 m. Distance about 15 km. Maximum 12 sporty hikers.
Photos: 4.16.2010:
https://tinyurl.com/yde4fd3p
4.25.2010:
https://tinyurl.com/y7nfxssz
12.1.2012:
https://tinyurl.com/y7hmfw9h
Photos 2016:
https://photos.app.goo.gl/gHTHKKDgkyPbJ6Sk1
Equipment: Good mountain shoes, snowshoes, gaiters, warm and waterproof clothes, gloves, hat, drink picnic.... All must be prepared the day before.
Formalities: The newcomers are asked to fill out the registration form
http://rando-74.pagesperso-orange.fr/Adhesion.htm
and deliver it to the organizer on Sunday morning.
We meet at Gaillard, behind the customs of Moillesulaz, in front of the Librairie de France at 7h30. Inscription is obligatory.
The hike is organised by the small hiking association Oxygene 74
http://rando-74.assoc.pagespro-orange.fr
There is a participation fee of 5 Euro for a daily license of the French hiking federation FFRP.
Passengers in the vehicle pay directly to the driver € 0.10 per km.
If you are interested, you can contact me on my direct e-mails amazraf@bluewin.ch. You can also call me (only emergency)at 079 644 85 52
Do let me know your mobil number and whether you will come by car.