Snowshoeing, Mont Lachat de Chatillon (2053m)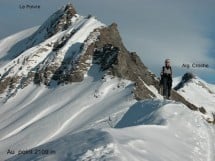 Sunday, April 22nd, 2018 @ 08:00
Haute-Savoie, Geneva
I organize a winter hike to the Mont Lachat de Chatillon from Grand Bornand (50 km from Geneva) this Sunday, April 22.
From the Grand-Bornand, we drive through Nant Robert to park just after the Liaz.
We go east, passing by Les Touillettes. At Grande-Montagne, we turn northwest to the Col de Châtillon (1681 m). From there, we climb up Mount Lachat.
Panorama with 360 degrees. Views of the Aravis mountain range and other peaks of the region. Descend by the same path. Elevation gain of 700 m; Distance of 14 km.
I DO NOT READ EMAILS TO GLOCALS
Inscription: by email at JeanJose.Gomez1956@gmail.com
This is an Oxygène 74 outing. rando-74.pagespro-orange.fr
I need to know:
• Your full name.
• Do you have a car and if yes, how many people can it contain, including the driver?
• Your mobile number
• An email address you can read on the weekend.
• Have you used snowshoes?
You will need: suitable shoes, poles and gaiters, warm clothes, sun cream and sunglasses, your passport and some Euros, drinks and picnic.
Price 5 Euros including insurance. Transport: passenger pays 10 Euros to the driver.
If you do not have your own snowshoes, you can rent them in advance (for a list of rental places see
http://www.sindy.ch/snowshoes.doc
- in addition, there is Cactus Sports in Carouge) and our association can rent snowshoes (8 euros).
Leader: Jean Gomez: +33681756479.
Please, email me or call (I speak French and Spanish).
A gradient of 700 m and a distance of 14 km. Walking time: about 5 hours.
Photos :
https://1drv.ms/f/s
!Atoxc5_vAkTg7GH6CSdIYk7H0whj
Meeting point at 08:00 at the French side of the Moellesulaz customs.