Hiking in Himmelreich, between heaven and hell: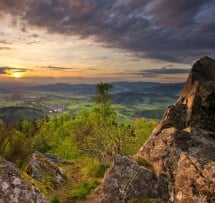 Saturday, March 4th, 2023 @ 11:00
Let's meet at Himmelreich station at 11:00, Basel
Given the kind weather forecast on Saturday, is anyone up for yet one more hike in the Black Forest? The plan is to start from Himmelreich station in the Höllental, the valley that is so dark and narrow that, according to the legend, a deer chased by a hunter managed to escape its fate by jumping 10 metres from one side to the other of the valley.
From Himmelreich, we'll follow the diamond mark and try to reach the Frauensteigfelsen: despite being barely 750 metre high, the scenic view point is said to be impressive, so it will probably be our lunch spot. From there, we'll head down to the picturesque Kreuzberg Chapel and reach Buchenbach castle and village along a via Crucis. Return will, again, be from Himmelreich station, possibly around 3-4pm.
Hike is rated as T2/medium (mostly due to some rather steep trails at the very beginning) and takes around 3 hours. It has 300mt elevation gain, and is well described on
https://www.dreisamtal.de/tour/zum-frauensteigfelsen-03727389ec
+
https://www.schwarzwald-panoramastrasse.de/Media/Touren/Buchenbach-Frauensteig-und-Pfaffeneck
Recommended trains:
9:18 Basel Bad Bf
10:18 Freiburg (Breisgau)
+
10:40 Freiburg (Breisgau)
10:56 Himmelreich