Friday Night Drinks - King Size pub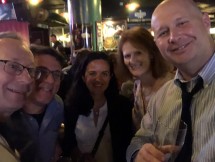 Friday, November 25th, 2022 @ 20:00
King Size Pub - Flon, central lausanne, Lausanne
Well its been a while and no doubt everyone is very thirsty so ... we thought we would organise another friday nights drinks in flon, central lausanne.

All welcome, we will be at the bar around 8pm. If you have any trouble finding us I will send all people signed up my portable nearer the time.

Hope to see you there.