Hiking & Carnival in Ticino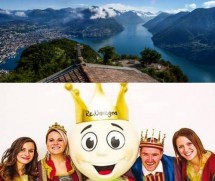 Saturday, March 5th, 2022 @ 11:30
Biasca on Saturday, Lugano on Sunday, Zurich
Anyone up for travelling south to Ticino?
After accompanying us with light-hearted entertainment throughout February, the Swiss Carnival saga will end this weekend on a good note in the town of Biasca, by offering a colorful parade, guggen music, risotto with luganiga and much more, courtesy of King and Queen Naregna, the local Carnival rulers.
Plan then is to combine the Carnival with an exploration of Biasca on Saturday. If possible, let's meet at 12:40 at Biasca train station, where we can try grab a dish of risotto, before having a walk across the 3 historical churches of Biasca (
https://www.ticino.ch/it/commons/details/Itinerario-culturale-Biasca/3157.html
 ), as well as have a glimpse of Biasca's triple waterfall.
The rest of the afternoon will be for the 14:30 parade, followed by a short hike either to Fraccion or along the Trail of the Void... and more Carnival music.
As for Sunday, let's see if we can attend the morning concert at Lugano Lac (
https://www.luganolac.ch/it/lac/programma/evento~lac-edu~2021-2022~per-tutti~hall-in-musica~.html
 ) and listen to an hour of Mozart and Schubert, before venturing up to S.Salvatore. We'll follow the highly scenic route described on
https://www.activityworkshop.net/hiking/switzerland/sansalvatore.html
 (since we already did Carona-Morcote, we'll head down to Melide after arriving to Carona). Hike takes 3,5 hours with 600 mt elevation gain.
As usual, feel free to come on Saturday, on Sunday or both!