Sechselauten (will the rain save the snowman?)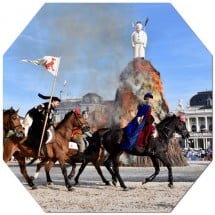 Monday, April 25th, 2022 @ 14:00
Zurich, Zurich
It's again that time of the year, when Zürich sentences winter to death and burns it at the stake, as part of the Sechseläuten spring festival. The rite features a very colorful parade, where all the historical guilds show their best dresses, and culminates in the burning of the Böögg - a snow puppet representing winter. Tradition has it that the shorter it takes for the head to explode, the hotter the summer will be.

Given the forecast, it doesn't look like it will be so easy to defeat the Böögg, as rain is expected over the next days.

Let's meet at 2:00pm under the big purple angel of Zurich train station and follow the action. If there's time between the parade and the burning of the Böögg, we might have a walk in the always pleasant botanical gardens.