Tennis in Vessy - All levels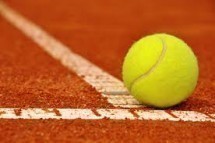 Saturday, April 20th, 2019 @ 13:00
TC Genève-Champel - 41 route de Vessy, 1234 Vessy, Geneva
★Please bring proper tennis shoes as we will be playing on clay courts. If you come without, you won't be able to play★
Hi guys,
I have booked some outdoor tennis courts (clay courts) for players of all levels (we will play doubles with rotation) for 2 hours in a private club with really nice courts. Please read carefully the following information:
• Fee: CHF 20.- for two hours (not possible to pay only for one hour) to pay in advance when you arrive.
• What to bring: Bring a tennis racket (I may have some old rackets if you really need but please ask me first); I'll bring the balls. Bring also proper tennis shoes and sports clothes. There is a locker-room and showers if needed
• Access: Bus 11 or 21 until stop "Bout-du-Monde" and then walk 10-15 minutes by foot to the tennis club (it's NOT the centre sportif du Bout-du-Monde just next to the bus stop or the centre sportif de Vessy. It's just after it.). If you come by car, there is a free parking just in front. As the club is a bit hidden, be sure to look for it on a map before coming - Tennis Club de Genève Champel (
http://www.tc-geneve.ch/champel/accueil/
). If you don't find, give me a call: 078.620.31.08
• Meeting point: Let's meet 15min before the starting time on the terrasse of the restaurant just after the portal at the end of the parking lot. If you want to join us directly on the court, please come on court number 9.
In case you have some trouble to find us or any questions please send me a message or call me: 078.620.31.08.
See you on the court ;)
David
★★★----- Important Reminder-------★★★
"Please read carefully before RSVP"
☆Please respect the waiting list and don't turn up if you are not on the "going" list as you won't be able to play☆
☆Please only answer "going" if you are sure to come as place are limited ☆
☆Event might be cancelled due to weather conditions. Check the comments section the day before ☆
★Please do not cancel your RSVP the day of the event★
Photos (1)