Book 118: To the Back of Beyond by Peter Stamm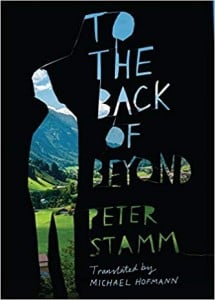 Wednesday, September 4th, 2019 @ 19:00
15, rue des Savoises, la Maison des Associations - salle Jacquard, Geneva
This inscrutable novel is a haunting love story of subtlety and pathos. It opens with a man who enjoys the kind of perfect life you can't imagine anyone wishing to abandon: a pleasant house in a pretty Swiss town, an affectionate wife, two healthy children, a sensible career. Thomas never argues with Astrid; he is not attracted to any other woman, any other career. And yet … immediately on return from a seaside holiday in Spain, more like a migratory bird scenting the change of season than a man arriving at a difficult decision, while his wife is putting the children to bed, Thomas leaves his chilled wine unfinished and walks out. To leave or not to leave, that is the question.
Presenter: Vlad
Starting time: 19:15 sharp
Format:
1. Members introduction (10 minutes)
2. Brief introduction of next book (5 minutes)
3. Book presentation by Vlad (20-30 minutes)
– A brief history of author's life
– A short summary of the book
– Main/new ideas/themes
4. Group discussion led by Vlad (45-60 minutes), member's personal view about the book, opposing ideas.
At the end of the meeting, a group of us goes to a bar nearby for a drink, everyone is welcome to join.
Map:
http://www.lafea.org/contacts.htm
Note: reading the book is not a "must" to attend the meeting.
Look forward to see you all!
Upcoming events:
https://genevainternationa93.wixsite.com/bookclub/post/future
Past events:
https://genevainternationa93.wixsite.com/bookclub/post/_past
To join the glocals group:
http://www.glocals.com/groups/geneva/geneva-book-club.htm
To join the Meetup group:
https://www.meetup.com/Geneva-International-Book-Club/