Book 122: The Last Garden by Eva Hornung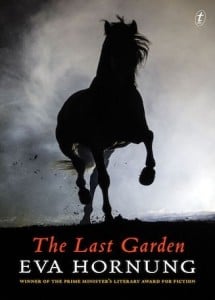 Wednesday, January 29th, 2020 @ 19:00
15, rue des Savoises, la Maison des Associations - salle René Dumont (SSol), Geneva
In the early 19th century, 38 German Lutheran families, escaping the threat of persecution under the Prussian king, arrived in Port Adelaide, eventually establishing a small settlement in the Adelaide Hills. It was the first of several waves of German immigration to the area, the newcomers building villages and cultivating the land, all the while holding to their own religion, customs and traditions. In The Last Garden, Eva Hornung takes the bare bones of this history and transforms them into an allegorical tale of faith and renewal. In this quiet and subtle piece of writing, she explores not only the stultifying effects of social and spiritual isolation but also the prodigious healing power of the natural world. Fifteen-year-old Benedict Orion returns home from boarding school one summer to find both his parents dead...
Presenter: Sean
Starting time: 19:15 sharp
Format:
1. Members introduction (10 minutes)
2. Brief introduction of next book (5 minutes)
3. Book presentation by presenter (20-30 minutes)
– A brief history of author's life
– A short summary of the book
– Main/new ideas/themes
4. Group discussion led by presenter (45-60 minutes), member's personal view about the book, opposing ideas.
At the end of the meeting, a group of us goes to a bar nearby for a drink, everyone is welcome to join.
Map:
http://www.lafea.org/contacts.htm
Note: reading the book is not a "must" to attend the meeting.
Look forward to see you all!
Upcoming events:
https://genevainternationa93.wixsite.com/bookclub/post/future
Past events:
https://genevainternationa93.wixsite.com/bookclub/post/_past
To join the glocals group:
http://www.glocals.com/groups/geneva/geneva-book-club.htm
To join the Meetup group:
https://www.meetup.com/Geneva-International-Book-Club/