Book 131-The Time Regulation Institute by A.H.Tanpinar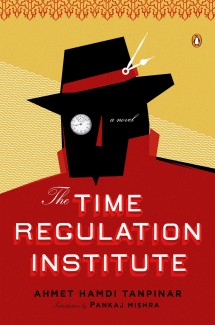 Tuesday, February 9th, 2021 @ 19:00
, Geneva
Link to join:
https://us02web.zoom.us/j/83015323811
Perhaps the greatest Turkish novel of the twentieth century, being discovered around the world only now, more than fifty years after its first publication, The Time Regulation Institute is an antic, freewheeling send-up of the modern bureaucratic state.
At its center is Hayri Irdal, an infectiously charming antihero who becomes entangled with an eccentric cast of characters—a television mystic, a pharmacist who dabbles in alchemy, a dignitary from the lost Ottoman Empire, a "clock whisperer"—at the Time Regulation Institute, a vast organization that employs a hilariously intricate system of fines for the purpose of changing all the clocks in Turkey to Western time. Recounted in sessions with his psychoanalyst, the story of Hayri Irdal's absurdist misadventures plays out as a brilliant allegory of the collision of tradition and modernity, of East and West, infused with a poignant blend of hope for the promise of modernity and nostalgia for a simpler time.
Presenter: ANIL
Starting time: 19:15 sharp
Format:
1. Members introduction (10 minutes)
2. Brief introduction of next book (5 minutes)
3. Book presentation (20-30 minutes)
– A brief history of author's life
– A short summary of the book
– Main ideas/themes
4. Group discussion (45-60 minutes), members' personal views on the book, opposing ideas, etc.
Note: reading the book is not a "must" to attend the meeting.
We look forward to seeing you all!
Upcoming events:
https://genevainternationa93.wixsite.com/bookclub/post/future
Past events:
https://genevainternationa93.wixsite.com/bookclub/post/_past
To join the glocals group:
http://www.glocals.com/groups/geneva/geneva-book-club.htm
To join the Meetup group:
https://www.meetup.com/Geneva-International-Book-Club/