Book discussion-#135-Slow Homecoming by Peter Handke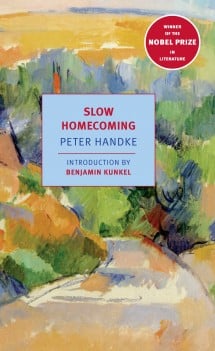 Tuesday, May 25th, 2021 @ 19:00
, Geneva
LINK to event:
https://us02web.zoom.us/j/82112862824
Provocative, romantic, and restlessly exploratory, Peter Handke is one of the great writers of our time. Slow Homecoming, originally published in the late 1970s, is central to his achievement and to the powerful influence he has exercised on other writers, chief among them W.G. Sebald. A novel of self-questioning and self-discovery, Slow Homecoming is a singular odyssey, an escape from the distractions of the modern world and the unhappy consciousness, a voyage that is fraught and fearful but ultimately restorative, ending on an unexpected note of joy.
Presenter: Vlad
Starting time: 19:15 sharp
Format:
1. Members introduction (10 minutes)
2. Brief introduction of next book (5 minutes)
3. Book presentation (20-30 minutes)
– A brief history of author's life
– A short summary of the book
– Main ideas/themes
4. Group discussion (45-60 minutes), members' personal views on the book, opposing ideas, etc.
Note: reading the book is not a "must" to attend the meeting.
We look forward to seeing you all!
Upcoming events:
https://genevainternationa93.wixsite.com/bookclub/post/future
Past events:
https://genevainternationa93.wixsite.com/bookclub/post/_past
To join the glocals group:
http://www.glocals.com/groups/geneva/geneva-book-club.htm
To join the Meetup group:
https://www.meetup.com/Geneva-International-Book-Club/