Book 137 - The Magic Mountain by Thomas Mann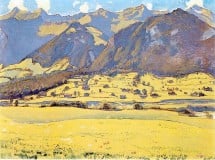 Tuesday, August 24th, 2021 @ 19:00
Maison Internationale des Associations, Rue des Savoises 15, 1205 Genève, Salle Albert Jacquard, Geneva
In this dizzyingly rich novel of ideas, Mann uses a sanatorium in the Swiss Alps, a community devoted exclusively to sickness, as a microcosm for Europe, which in the years before 1914 was already exhibiting the first symptoms of its own terminal irrationality. The Magic Mountain is a monumental work of erudition and irony, sexual tension and intellectual ferment, a book that pulses with life in the midst of death.
LOCATION: Maison Internationale des Associations, Rue des Savoises 15, 1205 Genève, Salle Albert Jacquard
Presenter: Carla
Starting time: 19:15 sharp
Format:
1. Members introduction (5-10 minutes)
2. Book presentation (20-30 minutes)
– A brief history of author's life
– A short summary of the book
– Main ideas/themes
3. Group discussion (45-60 minutes), members' personal views on the book, opposing ideas, etc.
4. Announcement/info on next meeting (5 minutes)
Note: reading the book is not a "must" to attend the meeting.
We look forward to seeing you all!
Upcoming events:
https://genevainternationa93.wixsite.com/bookclub/post/future
Past events:
https://genevainternationa93.wixsite.com/bookclub/post/_past
To join the glocals group:
http://www.glocals.com/groups/geneva/geneva-book-club.htm
To join the Meetup group:
https://www.meetup.com/Geneva-International-Book-Club/