Book selection: Women Nobel Prize winners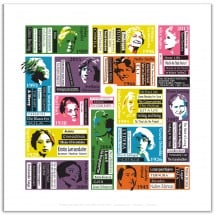 Tuesday, August 10th, 2021 @ 19:00
Promenade de la Treille, https://goo.gl/maps/13jPqXpicnWtLc6p9, Geneva
With this book selection meeting, we would like to acknowledge the recognition that has been awarded to women writers by means of the highest (albeit not without controversy) literary prize, the Nobel.
Whether you have a favourite Nobel laureate you'd like to suggest, or had always been interested to discover more about any of them, please bring forward a book you'd like to discuss with the book club. The usual selection process by vote will pick a (GVA BOOKCLUB) winner!
Location: Promenade de la Treille, Old town
Starting time: 7:15 pm sharp
Presenter: all that wish to contribute
Format:
Part 1: presenter(s) provide a short overview of the pre-selected books, highlighting some of the reviews and critics. Members who have read any of the books can contribute.
Part 2: participants are invited to introduce any book that they would like to recommend and provide a short overview thereof (on a voluntarily basis).
Part 3: participants vote to select the book to be discussed in one of the upcoming book discussion meetings.
We look forward to seeing you all!
Upcoming events:
https://genevainternationa93.wixsite.com/bookclub/post/future
Past events:
https://genevainternationa93.wixsite.com/bookclub/post/_past
To join the glocals group:
http://www.glocals.com/groups/geneva/geneva-book-club.htm
To join the Meetup group:
https://www.meetup.com/Geneva-International-Book-Club/