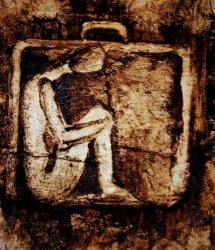 Tuesday, September 7th, 2021 @ 19:00
Maison des Associations, Rue des Savoises 15, 1205 Genève, Geneva
Whether by choice, by force, or by circumstance, Exile has been at the heart of many literary works, both modern and contemporary. Whether depicting the immigrant experience, the pain of dislocation or the hope of starting a new life, it's the throwing of oneself in an unknown landscape and reshaping one's identity accordingly that gives these books their common denominator.
Please bring forward a book written on/in Exile that has moved you, or that you always wanted to read & discuss with fellow book club members.
Location: Maison des Associations, Rue des Savoises 15, 1205 Genève
Starting time: 7:15 pm sharp
Presenter: all that wish to contribute
Format:
Part 1: presenter(s) provide a short overview of the pre-selected books, highlighting some of the reviews and critics. Members who have read any of the books can contribute.
Part 2: participants are invited to introduce any book that they would like to recommend and provide a short overview thereof (on a voluntarily basis).
Part 3: participants vote to select the book to be discussed in one of the upcoming book discussion meetings.
We look forward to seeing you all!
Upcoming events:
https://genevainternationa93.wixsite.com/bookclub/post/future
Past events:
https://genevainternationa93.wixsite.com/bookclub/post/_past
To join the glocals group:
http://www.glocals.com/groups/geneva/geneva-book-club.htm
To join the Meetup group:
https://www.meetup.com/Geneva-International-Book-Club/