Book selection: Novels set in Geneva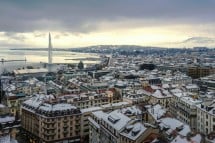 Tuesday, January 11th, 2022 @ 19:00
Maison Internationale des Associations, Rue des Savoises 15, 1205 Genève, Geneva
Exactly how many novels feature our precious little city (canton)?
To welcome everyone back from the winter holiday break, we will meet around a book selection on works that are set in Geneva. Forget New York, Paris or London and let's take a look at authors that found their inspiration on the same ground we walk on every day.
All participants are welcome to suggest a book that fits the profile.
Location: Maison Internationale des Associations, Rue des Savoises 15, 1205 Genève, Salle Steve Biko
Starting time: 7:15 pm sharp
Presenter: everyone that wishes to contribute
EVERYONE must have a valid COVID certificate and wear a mask.
Format:
Part 1: presenter(s) provide a short overview of the pre-selected books, highlighting some of the reviews and critics. Members who have read any of the books can contribute.
Part 2: participants are invited to introduce any book that they would like to recommend and provide a short overview thereof (on a voluntarily basis).
Part 3: participants vote to select the book to be discussed in one of the upcoming book discussion meetings.
We look forward to seeing you all!
Upcoming events:
https://genevainternationa93.wixsite.com/bookclub/post/future
Past events:
https://genevainternationa93.wixsite.com/bookclub/post/_past
To join the glocals group:
http://www.glocals.com/groups/geneva/geneva-book-club.htm
To join the Meetup group:
https://www.meetup.com/Geneva-International-Book-Club/