Book #143 - No One Writes Back by Jang Eun-Jin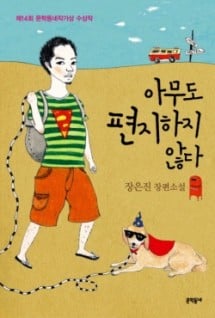 Tuesday, March 22nd, 2022 @ 19:00
Maison Internationale des Associations, Geneva
No One Writes Back is the story of a young man who leaves home with only his blind dog, an MP3 player, and a book, traveling aimlessly for three years, from motel to motel, meeting people on the road. Rather than learn the names of his fellow traveler, he assigns them numbers. There's 239, who once dreamed of being a poet, but who now only reads her poems to a friend in a coma; there's 109, who rides trains endlessly because of a broken heart; and 32, who's already decided to commit suicide. The narrator writes letters to these men and women in the hope that he can console them in their various miseries, as well as keep a record of his own experiences: "A letter is like a journal entry for me, except that it gets sent to other people." No one writes back, of course, but that doesn't mean that there isn't some hope that one of them will, someday...
LOCATION: Maison Internationale des Associations
Presenter: Güniz
Starting time: 19:15 sharp
Format:
Members introduction (5-10 minutes)
Book presentation (20-30 minutes)
– A brief history of author's life
– A short summary of the book
– Main ideas/themes
Group discussion (45-60 minutes), members' personal views on the book, opposing ideas, etc.
Announcement/info on next meeting (5 minutes)
Note: reading the book is not a "must" to attend the meeting.
We look forward to seeing you all!
Upcoming events:
https://genevainternationa93.wixsite.com/bookclub/post/future
Past events:
https://genevainternationa93.wixsite.com/bookclub/post/_past
To join the glocals group:
http://www.glocals.com/groups/geneva/geneva-book-club.htm
To join the Meetup group:
https://www.meetup.com/Geneva-International-Book-Club/