Book selection: The Birth of the Novel in 18c England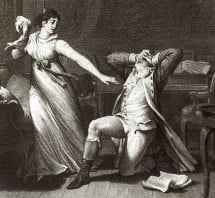 Tuesday, April 5th, 2022 @ 19:00
Maison Internationale des Associations, Rue des Savoises 15, 1205 Genève, Geneva
Strong characters, engrossing plots, exotic settings, psychological drama: early novels were real page-turners, designed to hook their readers and keep them buying one volume after another. A society in ferment, eighteenth century England gave rise to a new kind of prose narrative, replacing moral stories and traditional sagas with pacy tales of contemporary life recounted in vivid vernacular language in which the trials, perils, and adventures of the hero or heroine did not follow a pre-established plot and the outcome could not be predicted. We'll look at a range of works by Defoe, Swift, Richardson, Burney, Fielding, Radcliffe and Stern, all very different and each one startlingly original.
Location: Maison des Associations, salle Albert Jacquard
Presenter: Carla
Starting time: 7:15 PM
Format:
Part 1: presenter(s) provide a short overview of the pre-selected books, highlighting some of the reviews and critics. Members who have read any of the books can contribute.
Part 2: participants are invited to introduce any book that they would like to recommend and provide a short overview thereof (on a voluntarily basis).
Part 3: participants vote to select the book to be discussed in one of the upcoming book discussion meetings.
We look forward to seeing you all!
Upcoming events:
https://genevainternationa93.wixsite.com/bookclub/post/future
Past events:
https://genevainternationa93.wixsite.com/bookclub/post/_past
To join the glocals group:
http://www.glocals.com/groups/geneva/geneva-book-club.htm
To join the Meetup group:
https://www.meetup.com/Geneva-International-Book-Club/