Book #144 - Fieldwork in Ukrainian Sex by Oksana Zabuzh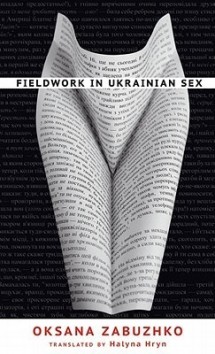 Tuesday, April 26th, 2022 @ 19:00
Maison Internationale des Associations, Geneva
Fieldwork in Ukrainian Sex became an international phenomenon when it shot to number one on the Ukrainian bestseller list and remained there throughout the 1990s. The novel is narrated in first-person streams of thought by a sharp-tongued poet with an irreverently honest voice. She is visiting professor of Slavic studies at Harvard and her exposure to American values and behaviors conspires with her yearning to break free from Ukrainian conventions. In her despair over a recently ended affair, she turns her attention to the details of her lover's abusive behavior. In detailing the power her Ukrainian lover wielded over her, and in admitting the underlying reasons for her attraction to him, she begins to see the chains that have defined her as a Ukrainian woman – and in doing so, exposes and calls into question her country's culture of fear and repression at the very time that it wrestled its way toward independence.
LOCATION: Maison Internationale des Associations, salle Albert Jacquard
Presenter: Nicole
Starting time: 19:15 sharp
Format:
Members introduction (5-10 minutes)
Book presentation (20-30 minutes)
– A brief history of author's life
– A short summary of the book
– Main ideas/themes
Group discussion (45-60 minutes), members' personal views on the book, opposing ideas, etc.
Announcement/info on next meeting (5 minutes)
Note: reading the book is not a "must" to attend the meeting.
We look forward to seeing you all!
Upcoming events:
https://genevainternationa93.wixsite.com/bookclub/post/future
Past events:
https://genevainternationa93.wixsite.com/bookclub/post/_past
To join the glocals group:
http://www.glocals.com/groups/geneva/geneva-book-club.htm
To join the Meetup group:
https://www.meetup.com/Geneva-International-Book-Club/