Book #145 - Moll Flanders by Daniel Defoe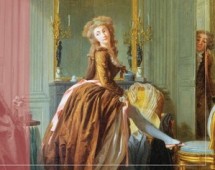 Tuesday, May 24th, 2022 @ 19:00
Maison Internationale des Associations Rue des Savoises, 15, Salle Albert Jacquard, Geneva
One of the most determined, energetic and lusty heroines in all of English literature, Daniel Defoe's Moll Flanders will do anything to avoid poverty.
'Born in Newgate, & during a Life of continu'd Variety for Threescore Years, besides her Childhood, was Twelve Year a Whore, five times a Wife (whereof once to her own Brother), Twelve Year a Thief, Eight Year a Transported Felon in Virginia, at last grew Rich, liv'd Honest, & died a Penitent.'
She is as much a survivor, and just as resourceful, as Defoe's other great literary creation, Robinson Crusoe.
Celebrated as a masterpiece of characterization, Moll Flanders is both a cunning examination of social mores and a hugely entertaining story filled with scandalous sexual and criminal adventures. In Moll, Defoe created a character of limitless interest, in spite of her unconcealed ethical shortcomings. Taking Moll through the echelons of eighteenth-century English society, Defoe seldom moralizes as he champions the personal qualities of self-reliance, perseverance, and hard work—even when it takes the form of crime.
LOCATION: Maison Internationale des Associations
Presenter: Rosie
Starting time: 19:15 sharp
Format:
Members introduction (5-10 minutes)
Book presentation (20-30 minutes)
– A brief history of author's life
– A short summary of the book
– Main ideas/themes
Group discussion (45-60 minutes), members' personal views on the book, opposing ideas, etc.
Announcement/info on next meeting (5 minutes)
Note: reading the book is not a "must" to attend the meeting.
We look forward to seeing you all!
Upcoming events:
https://www.genevainternationalbookclub.com/post/future
Past events:
https://www.genevainternationalbookclub.com/post/_past
Presentation slides (current year):
https://www.genevainternationalbookclub.com/post/slides-2022