Book selection: Gender and Sexuality in Literature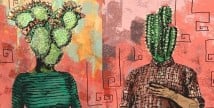 Tuesday, May 10th, 2022 @ 19:00
Maison Internationale des Associations, Rue des Savoises 15, 1205 Genève, Geneva
Literature has the wonderful yet complex mission of describing how things are, analysing why they are so as well as questioning whether that is the only possible way for them to be.
In an explicit or implicit manner, many novels we read carry a significant Gender and Sexuality component. During this meeting, we will go through a selection of works with a unique depiction of Gender and Sexuality and select one for a subsequent discussion.
Location: Maison des Associations, salle Albert Jacquard
Presenter: Güniz
Starting time: 7:15 PM
Format:
Part 1: presenter(s) provide a short overview of the pre-selected books, highlighting some of the reviews and critics and other relevant background. Members who have read any of the books can contribute.
Part 2: participants are invited to introduce any book that they would like to recommend and provide a short overview thereof (on a voluntarily basis).
Part 3: participants vote to select the book to be discussed in one of the upcoming book discussion meetings.
We look forward to seeing you all!
Upcoming events:
https://www.genevainternationalbookclub.com/post/future
Past events:
https://www.genevainternationalbookclub.com/post/_past
Presentation slides (current year):
https://www.genevainternationalbookclub.com/post/slides-2022