Book #150 - Hard-Boiled Wonderland (...) by H. Murakami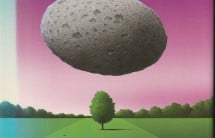 Tuesday, January 31st, 2023 @ 19:00
Maison Internationale des Associations, Rue des Savoises 15, 1205 Genève, Geneva
'A narrative particle accelerator that zooms between Wild Turkey Whiskey and Bob Dylan, unicorn skulls and voracious librarians, John Coltrane and Lord Jim. Science fiction, detective story and post-modern manifesto all rolled into one rip-roaring novel, Hard-Boiled Wonderland and the End of the World is the tour de force that expanded Haruki Murakami's international following. Tracking one man's descent into the Kafkaesque underworld of contemporary Tokyo, Murakami unites East and West, tragedy and farce, compassion and detachment, slang and philosophy.'
LOCATION: Maison Internationale des Associations, salle Albert Jacquard
Presenter: Francesca
Starting time: 19:15 sharp
Format:
Members introduction (5-10 minutes)
Book presentation (20-30 minutes)
– A brief history of author's life
– A short summary of the book
– Main ideas/themes
Group discussion (45-60 minutes), members' personal views on the book, opposing ideas, etc.
Announcement/info on next meeting (5 minutes)
Note: reading the book is not a "must" to attend the meeting.
We look forward to seeing you all!
Upcoming events:
https://www.genevainternationalbookclub.com/post/future
Past events:
https://www.genevainternationalbookclub.com/post/_past
Slides current year:
https://www.genevainternationalbookclub.com/post/slides-2023