Book #152 - The Evenings by Gerard Reve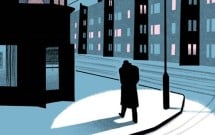 Tuesday, March 28th, 2023 @ 19:00
Maison Internationale des Associations, Rue des Savoises 15, salle Albert Jacquard, Geneva
'On 1 November 1947, Gerard Reve published what was to become one of the classics of Dutch literature. Set during the last ten dark days of 1946, the story revolves around Frits van Egters, a young man who lives at home with his parents, whom he finds annoying and embarrassing. He avoids them by visiting friends, whom he provokes and challenges, and by withdrawing into his bedroom, where he finds comfort with his favourite cuddly toy, a rabbit to which he devotes near-erotic attention.
Seventy years after its original release, The Evenings has experienced a major resurgence, thanks to Sam Garrett's excellent English translation. Reve himself is not around to enjoy the acclaim, but he would probably have echoed the words of his protagonist, expressed in the legendary closing sentence of The Evenings: 'It has been seen, it has not gone unnoticed.'
LOCATION: Maison Internationale des Associations, salle Albert Jacquard
Presenter: Bert
Starting time: 19:15 sharp
Format:
Members introduction (5-10 minutes)
Book presentation (20-30 minutes)
– A brief history of author's life
– A short summary of the book
– Main ideas/themes
Group discussion (45-60 minutes), members' personal views on the book, opposing ideas, etc.
Announcement/info on next meeting (5 minutes)
Note: reading the book is not a "must" to attend the meeting, but encouraged if you want to actively participate in the discussion.
We look forward to seeing you all!
Upcoming events:
https://www.genevainternationalbookclub.com/post/future
Past events:
https://www.genevainternationalbookclub.com/post/_past
Slides current year:
https://www.genevainternationalbookclub.com/post/slides-2023