Book #156 - Palace Walk by Naguib Mahfouz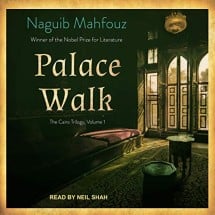 Tuesday, October 17th, 2023 @ 19:00
Maison Internationale des Associations, Rue des Savoises 15, salle Albert Jacquard, Geneva
Details
Palace Walk is the first novel in Nobel Prize-winner Naguib Mahfouz's magnificent Cairo Trilogy, an epic family saga of colonial Egypt that is considered his masterwork.
The novels of the Cairo Trilogy trace three generations of the family of tyrannical patriarch al-Sayyid Ahmad Abd al-Jawad, who rules his household with a strict hand while living a secret life of self-indulgence. Palace Walk introduces us to his gentle, oppressed wife, Amina, his cloistered daughters, Aisha and Khadija, and his three sons—the tragic and idealistic Fahmy, the dissolute hedonist Yasin, and the soul-searching intellectual Kamal. The family's trials mirror those of their turbulent country during the years spanning the two world wars, as change comes to a society that has resisted it for centuries.
LOCATION: Maison Internationale des Associations, salle Albert Jacquard
Presenter: VOLUNTEER WANTED!
Starting time: 19:15 sharp
Format:
Members introduction (5-10 minutes)
Book presentation (20-30 minutes)
A brief history of the author's life
A short summary of the book
Main ideas/themes
Group discussion (45-60 minutes), members' personal views on the book, opposing ideas, etc.
Announcement/info on next meeting (5 minutes)
Note: reading the book is not a "must" to attend the meeting, but encouraged if you want to actively participate in the discussion.
We look forward to seeing you all!
Upcoming events:
https://www.genevainternationalbookclub.com/post/future
Past events:
https://www.genevainternationalbookclub.com/post/_past
Slides current year:
https://www.genevainternationalbookclub.com/post/slides-2023