Book 20: "Les Misérables"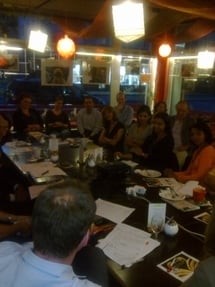 Wednesday, June 8th, 2011 @ 19:00
Librairie-café Les Recyclables: 53, rue de Carouge, Geneva
Les Misérables by Victor Hugo (French, 1862): Victor Hugo's tale of injustice, heroism and love follows the fortunes of Jean Valjean, an escaped convict determined to put his criminal past behind him. But his attempts to become a respected member of the community are put under threat: by his own conscience, when, owing to a case of mistaken identity, another man is arrested in his place; and by the relentless investigations of the dogged policeman Javert. It is not simply for himself that Valjean must stay free, however, for he has sworn to protect the baby daughter of Fantine, driven to prostitution by poverty. A compelling and compassionate view of the victims of early nineteenth-century French society, Les Misérables is a novel on an epic scale.
Presenter: Mehran
Commenter: Bolor
Date: 8 June
Time: 19:15 sharp
Format:
1. Members introduction (5 minutes)
2. Club demography (2 minutes)
3. Introducing interesting books (5 minutes)
4. Brief introduction of next book (2 minutes)
5. Book presentation (20-30 minutes)
– A brief history of author's life
– A short summary of the book
– Main/new ideas that the book brought to the society at the time that it was written
– What were the major implications/reactions at the time that it was written?
– What are the major implications on our daily lives (if any)?
6. Book clip
7. Group discussion led by the commentator (45-60 minutes), member's personal view about the book, opposing ideas.
Venue: Librairie-café Les Recyclables: 53, rue de Carouge, Genève
Tram 12/13 arrêt Pont d'Arve ou Augustin,
Bus 1/4/44 arrêt Pont d'Arve ou Plainpalais,
Parking vélo devant l'arcade,
Parking voiture sous le centre commercial Plainpalais-centre
Note: reading the book is not a "must" to attend the meeting!
Look forward to see you all!
To purchase the hard copy, you can send an email to Grégory in Librairie-café Les Recyclables:
[email protected]
To join the club:
http://www.glocals.com/
#/groups/geneva/geneva-book-club-group.htm
To see the upcoming events:
http://sites.google.com/site/genevabookclubgbc/event/eevents-2011
To sign up as presenter and/or commenter (please check the above web address first and only register for the books that are marked with "volunteer needed":
https://spreadsheets0.google.com/viewform?hl=en&formkey=dDlMbUVtTnRXdW5KUVpDZ3pLUWNVX2c6MQ
#gid=0