Book 22: "Multiple Intelligence"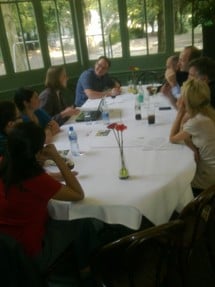 Wednesday, July 27th, 2011 @ 19:00
In front of café restaurant du parc des Bastions, Geneva
Multiple Intelligences: The Theory In Practice, A Reader by Howard E. Gardner (English, 2006): Howard Gardner's brilliant conception of individual competence has changed the face of education in the twenty-three years since the publication of his classic work, Frames of Mind. Since then thousands of educators, parents, and researchers have explored the practical implications and applications of Multiple Intelligences theory--the powerful notion that there are separate human capacities, ranging from musical intelligence to the intelligence involved in self-understanding.
Presenter: Miranda
Commenter: Volunteer needed
Date: 27 July
Time: 19:15 sharp
Format:
1. Members introduction (5 minutes)
2. Club demography (2 minutes)
3. Introducing interesting books (5 minutes)
4. Brief introduction of next book (2 minutes)
5. Book presentation (20-30 minutes)
– A brief history of author's life
– A short summary of the book
– Main/new ideas that the book brought to the society at the time that it was written
– What were the major implications/reactions at the time that it was written?
– What are the major implications on our daily lives (if any)?
6. Group discussion led by the commentator (45-60 minutes), member's personal view about the book, opposing ideas.
Venue: We first gather in front of Café Restaurant Du Parc des Bastions (1, Promenade des Bastions - 1204 Genève,
http://www.bastions.ch/
) at 19:15. If weather permits, we then sit on grass on the left side of resturant, otherwise, inside the resturant (if you arrived late and cannot find us, contact me at 079 778 5347)
Note: reading the book is not a "must" to attend the meeting!
Look forward to see you all!
To purchase the hard copy, you can send an email to Grégory in Librairie-café Les Recyclables:
[email protected]
To join the club:
http://www.glocals.com/
#/groups/geneva/geneva-book-club-group.htm
To see the upcoming events:
http://sites.google.com/site/genevabookclubgbc/event/eevents-2011
To sign up as presenter and/or commenter (please check the above web address first and only register for the books that are marked with "volunteer needed":
https://spreadsheets0.google.com/viewform?hl=en&formkey=dDlMbUVtTnRXdW5KUVpDZ3pLUWNVX2c6MQ
#gid=0