Book 30: The Alchemist by P. Coelho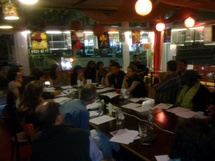 Wednesday, November 30th, 2011 @ 19:00
Librairie-café Les Recyclables: 53, rue de Carouge, Geneva
The Alchemist: A Fable About Following Your Dream by Paulo Coelho (Portuguese, 1988). The Alchemist details the journey of a young Andalusian shepherd boy named Santiago. Santiago, believing a recurring dream to be prophetic, decides to travel to the pyramids of Egypt to find treasure. On the way, he encounters love, danger, opportunity and disaster. One of the significant characters that he meets is an old king who tells him that "When you want something, all the universe conspires in helping you to achieve it." And this is the core philosophy and motif of the book.
Presenter: Parijat
Commenter: Josh
Date: 30 November 2011
Time: 19:15 sharp
Format:
1. Members introduction (5 minutes)
2. Club demography (2 minutes)
3. Introducing interesting books (5 minutes)
4. Brief introduction of next book (2 minutes)
5. Book presentation (20-30 minutes)
– A brief history of author's life
– A short summary of the book
– Main/new ideas that the book brought to the society at the time that it was written
– What were the major implications/reactions at the time that it was written?
– What are the major implications on our daily lives (if any)?
6. Group discussion led by the commentator (45-60 minutes), member's personal view about the book, opposing ideas.
At the end of the meeting, a group of us goes to a bar nearby for a drink, everyone is welcome to join.
Venue: Librairie-café Les Recyclables: 53, rue de Carouge, Genève
Tram 12/13 arrêt Pont d'Arve ou Augustin,
Bus 1/4/44 arrêt Pont d'Arve ou Plainpalais,
Parking vélo devant l'arcade,
Parking voiture sous le centre commercial Plainpalais-centre
Note: reading the book is not a "must" to attend the meeting!
Look forward to see you all!
Download the book from:
http://manifestingalchemy.yolasite.com/resources/Paulo%20Coelho%20-%20The%20Alchemist.pdf
To purchase the hard copy, you can send an email to Grégory in Librairie-café Les Recyclables:
[email protected]
To join the club:
http://www.glocals.com/
#/groups/geneva/geneva-book-club-group.htm
To see the upcoming events:
http://sites.google.com/site/genevabookclubgbc/event/eevents-2011
To sign up as presenter and/or commenter (please check the above web address first and only register for the books that are marked with "volunteer needed":
https://spreadsheets0.google.com/viewform?