Book 35: "Hitchhiker's Guide to the Galaxy"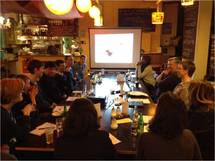 Wednesday, March 21st, 2012 @ 19:00
Librairie-café Les Recyclables: 53, rue de Carouge, Geneva
Hitchhiker's Guide to the Galaxy (English 1995) by Douglas Adams Seconds before the Earth is demolished to make way for a galactic freeway, Arthur Dent is plucked off the planet by his friend Ford Prefect, a researcher for the revised edition of The Hitchhiker's Guide to the Galaxy who, for the last fifteen years, has been posing as an out-of-work actor.Together this dynamic pair begin a journey through space aided by quotes from The Hitchhiker's Guide ("A towel is about the most massively useful thing an interstellar hitchhiker can have") and a galaxy-full of fellow travelers: Zaphod Beeblebrox--the two-headed, three-armed ex-hippie and totally out-to-lunch president of the galaxy; Trillian, Zaphod's girlfriend (formally Tricia McMillan), whom Arthur tried to pick up at a cocktail party once upon a time zone; Marvin, a paranoid, brilliant, and chronically depressed robot; Veet Voojagig, a former graduate student who is obsessed with the disappearance of all the ballpoint pens he bought over the years. Where are these pens? Why are we born? Why do we die? Why do we spend so much time between wearing digital watches? For all the answers stick your thumb to the stars. And don't forget to bring a towel!
Presenter: Folake
Commenter: Andrii
Date: 21 March 2012
Time: 19:15 sharp
Format:
1. Members introduction (5 minutes)
2. Club demography (2 minutes)
3. Introducing interesting books (5 minutes)
4. Brief introduction of next book (2 minutes)
5. Book presentation (20-30 minutes)
– A brief history of author's life
– A short summary of the book
– Main/new ideas that the book brought to the society at the time that it was written
– What were the major implications/reactions at the time that it was written?
– What are the major implications on our daily lives (if any)?
6. Group discussion led by the commentator (45-60 minutes), member's personal view about the book, opposing ideas.
At the end of the meeting, a group of us goes to a bar nearby for a drink, everyone is welcome to join.
Venue: Librairie-café Les Recyclables: 53, rue de Carouge, Genève
Tram 12/13 arrêt Pont d'Arve ou Augustin,
Bus 1/4/44 arrêt Pont d'Arve ou Plainpalais,
Parking vélo devant l'arcade,
Parking voiture sous le centre commercial Plainpalais-centre
Note: reading the book is not a "must" to attend the meeting!
Look forward to see you all!
Download the ebook from:
http://jj.thebuchis.de/jj/h2g2.pdf
To purchase the hard copy, you can send an email to Grégory in Librairie-café Les Recyclables:
[email protected]
To join the club:
http://www.glocals.com/
#/groups/geneva/geneva-book-club-group.htm
To see the upcoming events:
https://sites.google.com/site/genevabookclubgbc/event/2012