Book 37: "Dante's Inferno"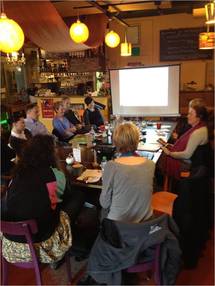 Wednesday, April 18th, 2012 @ 19:00
Librairie-café Les Recyclables: 53, rue de Carouge, Geneva
Dante's Inferno, widely hailed as one of the great classics of Western literature, details Dante's journey through the nine circles of Hell. The voyage begins during Easter week in the year 1300, the descent through Hell starting on Good Friday. After meeting his guide, the eminent Roman poet Virgil, in a mythical dark wood, the two poets begin their descent through a baleful world of doleful shades, horrifying tortures, and unending lamentation. Written in the early fourteenth century by Italian politician Dante Alighieri, the Divine Comedy is a literary reaction to the bitterly contested politics of medieval Florence. The Divine Comedy is Dante's fictional account of himself traveling through the three divine realms: Hell, Purgatory, and Heaven. Not surprisingly, in this story Dante puts his enemies in Hell; the Inferno is heavily populated with corrupt Florentine politicians characterized as sinners.
Presenter: Rosalind
Commenter: Andy
Date: 18 April 2012
Time: 19:15 sharp
Format:
1. Members introduction (5 minutes)
2. Club demography (2 minutes)
3. Introducing interesting books (5 minutes)
4. Brief introduction of next book (2 minutes)
5. Book presentation (20-30 minutes)
– A brief history of author's life
– A short summary of the book
– Main/new ideas that the book brought to the society at the time that it was written
– What were the major implications/reactions at the time that it was written?
– What are the major implications on our daily lives (if any)?
6. Group discussion led by the commentator (45-60 minutes), member's personal view about the book, opposing ideas.
At the end of the meeting, a group of us goes to a bar nearby for a drink, everyone is welcome to join.
Venue: Librairie-café Les Recyclables: 53, rue de Carouge, Genève
Tram 12/13 arrêt Pont d'Arve ou Augustin,
Bus 1/4/44 arrêt Pont d'Arve ou Plainpalais,
Parking vélo devant l'arcade,
Parking voiture sous le centre commercial Plainpalais-centre
Note: reading the book is not a "must" to attend the meeting!
Look forward to see you all!
To purchase the hard copy, you can send an email to Grégory in Librairie-café Les Recyclables:
[email protected]
Free download of the ebook from:
http://www.paskvil.com/file/files-books/dante-01-inferno.pdf
To join the club:
http://www.glocals.com/
#/groups/geneva/geneva-book-club-group.htm
To see the upcoming events:
https://sites.google.com/site/genevabookclubgbc/event/2012