Book 38: "Brideshead Revisited"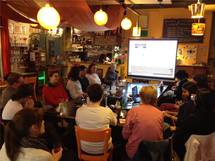 Wednesday, May 2nd, 2012 @ 19:00
Librairie-café Les Recyclables: 53, rue de Carouge, Geneva
Brideshead Revisited by Evelyn Waugh (English, 1945) Waugh tells the story of the Marchmain family. Aristocratic, beautiful and charming, the Marchmains are indeed a symbol of England and her decline in this novel of the upper class of the 1920s and the abdication of responsibility in the 1930s. Brideshead Revisited is now so widely acclaimed that it is hard to believe that it was not always so. Yet the fact is that both book and author were heavily criticized at the time of its first publication in 1945. How was it that such an enduring favorite should have met with such a hostile reception?
Presenter: Parijat
Commenter: Kerre
Date: 2 May 2012
Time: 19:15 sharp
Format:
1. Members introduction (5 minutes)
2. Club demography (2 minutes)
3. Introducing interesting books (5 minutes)
4. Brief introduction of next book (2 minutes)
5. Book presentation (20-30 minutes)
– A brief history of author's life
– A short summary of the book
– Main/new ideas that the book brought to the society at the time that it was written
– What were the major implications/reactions at the time that it was written?
– What are the major implications on our daily lives (if any)?
6. Group discussion led by the commentator (45-60 minutes), member's personal view about the book, opposing ideas.
At the end of the meeting, a group of us goes to a bar nearby for a drink, everyone is welcome to join.
Venue: Librairie-café Les Recyclables: 53, rue de Carouge, Genève
Tram 12/13 arrêt Pont d'Arve ou Augustin,
Bus 1/4/44 arrêt Pont d'Arve ou Plainpalais,
Parking vélo devant l'arcade,
Parking voiture sous le centre commercial Plainpalais-centre
Note: reading the book is not a "must" to attend the meeting!
Look forward to see you all!
To purchase the hard copy, you can send an email to Grégory in Librairie-café Les Recyclables:
[email protected]
To join the club:
http://www.glocals.com/
#/groups/geneva/geneva-book-club-group.htm
To see the upcoming events:
https://sites.google.com/site/genevabookclubgbc/event/2012